Today I am thankful that I am able to spend time with my family and eat some delicious goodies (there will be a picture and recipe to follow for the yummiest Thanksgiving dessert ever). Traditionally, Thanksgiving is spent to remember the first Thanksgiving of the Pilgrims back in 1621--and the Native Americans who supplied these settlers with the food that probably saved their lives. It is easy to see the holiday as a symbolic one, and not stop to think about the impact that this gesture may have had on each of our individual lives, here and today.
When my grandmother was alive, she did a lot of genealogy research on the heritage of my family. And it turns out that the Stacks' side of my family can be directly connected to
Mary Chilton
, a young woman aboard the Mayflower, and often considered to be the first woman to step on shore at Plymouth Rock.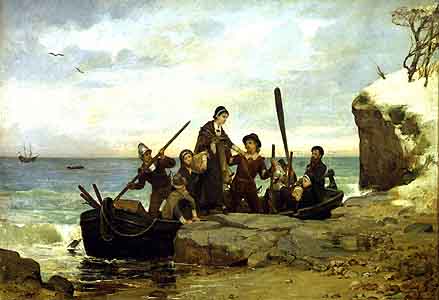 [Henry Bacon's Landing of the Pilgrims]
The year after the Mayflower landed, another ship, the Fortune, came and brought John Winslow, who would later become a prominent figure in the community. These two married, and one of their descendants, Fanny Winslow, married a member of the Stacks' family, and gave birth to my father's great-grandfather.
So what this post boils down to is that, if it weren't for those Native Americans who were willing to share their hard-earned food with the pilgrims, then I very well might not even exist. So, for me, that first Thanksgiving really was something to be thankful for.
L. Stacks